[This website was created on July 27, 2003, and I began building on it June 25, 2005.] This website was created this past summer 2005, although I have had a free Angelfire account since 2003. At first my topic for this website was unknown [undecided], and I went through such names as [3 Names Here] Wonderful World of Magic and Creativity. The content at first fell under several categories, such as friend images (for example, Shrek and Donkey), quotes, funny quotes, and more. Gradually I began to make it a Disney, especially Beauty and the Beast, website, and the name was changed to Fairy Tale Castle. I began to make it a Disney website, but I didn't want to part with my friends and other miscellaneous pages, so I still include them. Throughout this time, however, it has only remained a Disney Princess website, with only princess content and information. Now I have decided to make it a Princess website, not only Disney, but others, such as Thumbelina, Fiona, and more! It was named Fairy Tale Castle and after some time I began to call it simply Fairy Tale Castle, I dropped my name from the title, but I didn't tell anyone. I changed the name officially to Enchanted Castle this October/November 2005.
In January/February 2006, I decided to move this website to a new url. I chose http://enchantedcastle100.bravehost.com/, but then I decided on http://www.angelfire.com/magic2/enchantedcastle/, but I am still going to use the bravehost address. I am almost complete in moving the website (February 18, 2006). This website was moved to this website address and opened on Saturday, February 25, 2006.

Below you will find some layouts that this website has had. My first layout wasn't really a layout - I had open pages with various backgrounds. My second layout was made using an Angelfire Table Template, and my third layout was made using a layout from Buildfree.org, I believe.
The fourth layout was a pink tables layout featuring three Disney Princesses: Cinderella, Belle, and Aurora, from a Disney Princess Desktop Wallpaper. The pages themselves were pink tables with a thin white border separating them. The outer table, or the background, was a darker pink while the inner table was a lighter pink. I began using the fourth layout on August 19, 2005.

If you would like to view the Past Updates of this webpage, they are located in the Past Updates Page.


The first image is of the Enter Page, the second image is of the Index Page where the menu was located.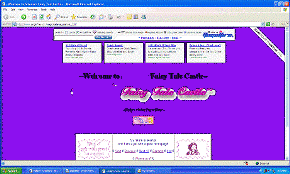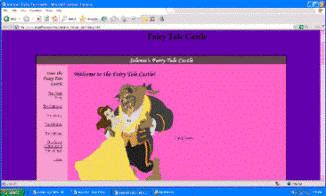 I believe the template I used for the third layout was from Buildfree.org, but I am not one hundred percent sure.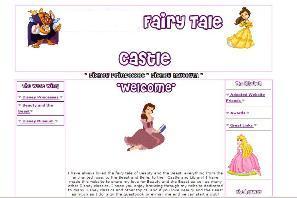 I began using this layout on August 19, 2005. Here are some screenshots of the way the index2 page looked, from top to bottom.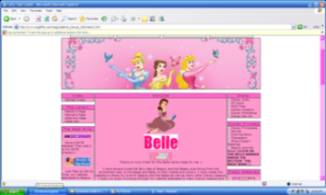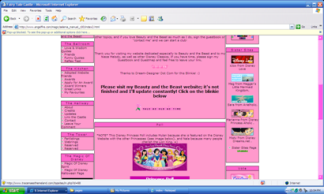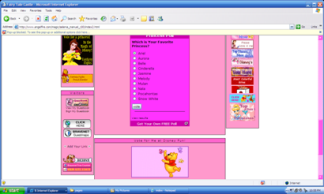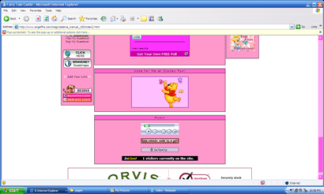 This website, Enchanted Castle, was previously called Fairy Tale Castle. I changed the name this November 2005 to Enchanted Castle. The Fairy Tale Castle contained content under different menus that were labeled according to rooms in the Beauty and the Beast Castle. There was The West Wing, The Library, The Kitchen, The Ballroom, The Hallway, and The Tower. There were several pages that were made prior to the decision to make this a Disney website, such as Love and Wisdom Quotes, Friends, and more. Here I will place the pages that don't really go with the subject of the website, but that I wish not to discard because my niece and I worked on them together in the summer (2005). The pages are placed under different menus that are labeled like the castle rooms. There is also a section called Fairy Tale Castle Graphics that includes graphics I used at one point at the beginning of the construction of this website.


Love and Wisdom Quotes
Friends
Funny Quotes
Reflex Test



Adopted Website Friends
Awards
Apply for an Award
Award Winners
Great Links [now combined with the Credits page]
My Favorites



Fanlistings [moved] {joined}
Webrings [now located on the Enter Page]



Here are graphics that I have used previously on this website from the time that construction began. I searched and searched for animated backgrounds because I really think they are awesome, and my little niece loved them as well, and we were both a little (okay, very

) sad to take them off. But here they are, they include rain, snow, and other animated backgrounds that I found through long internet searches this summer 2005. Some of the backgrounds are not animated, and some we didn't use on the website, but we previewed them and tried them out or really liked them. And some are still in use today. (--November 20, 2005)