This section features more in-depth information on all animated Princesses. The Six Main Disney Princesses are featured on the Disney Princess page.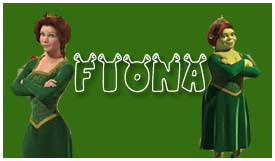 Princess Fiona is from the DreamWorks animated pictures, Shrek, Shrek 2, and the upcoming Shrek the Third.

Name: Fiona
Hair Color: Red
Dress Color: Green. At the wedding ball in Shrek 2, she wears a white dress.
Prince: Shrek
Family: King Harold and Queen Lillian
Villain: In Shrek, Lord Farquaad. In Shrek 2, The Fairy Godmother and Prince Charming.
Spell: In Shrek, Lord Farquaad wants someone to marry so he can be King, and so sends Shrek to rescue Princess Fiona from the dragon. What Shrek or Lord Farquaad do not know is that by night Fiona transforms into an Ogre. She finally reveals her secret to Shrek at her wedding with Lord Farquaad, because she has developed strong feelings for Shrek, only to be attacked by Lord Farquaad. Thankfully Dragon comes in and saves the day.
In Shrek 2, Fiona's father doesn't agree with Shrek as Fiona's husband, and neither does The Fairy Godmother, whose son, Prince Charming was supposed to end up with Fiona. When Shrek takes a potion, they make it so that Prince Charming pretends to be Shrek, and Shrek goes off alone with Donkey and Puss in Boots. When he learns of the Fairy Godmother's plot to make Fiona take a love potion to fall in love with Prince Charming, he knows he must go stop them. The Fairy Godmother vanishes with the magic from her own wand, and King Harold accepts Shrek.
Personality: Princess Fiona is not your typical damsel in distress. She is smart, tough, and has fallen in love with Shrek, an ogre. Haunted by a spell cast upon her by a witch as a child, she was locked away in a tower to wait the day her true love would rescure her. Now her true love has arrived as Shrek, and Fiona couldn't be happier. After a tough time getting her father, King Harold, to approve of Shrek, he finally has and things have never been better.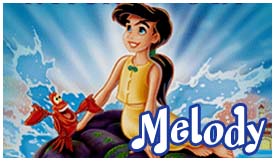 Princess Melody is from Walt Disney's animated classic, The Little Mermaid : Return to the Sea.

Name: Melody
Hair Color: Black
Dress Color: She wears a pink dress at a moment in the movie, and she has a sort of red tail fin when she changes to a mermaid with a beige shirt.
Family: Mother - Ariel and Father - Eric
Villain: Ursula's sister, Morgana
Spell: After finding a necklace with her name on it, Melody runs away to find out what it means and Ariel asks her father for help to find her daughter. Melody is tricked by Morgana into stealing the trident, not knowning that the King is actually her grandfather, but she does it because Morgana made her into a mermaid, which is her one true wish. In the end, Morgana is defeated, and Melody is allowed to get rid of the wall around the palace that had forbidden her into the sea.
Personality: Melody is just as curious as her mother and has the looks of both her mother and her father. I think she is a very pretty Princess and am glad there is a younger princess to appeal to younger audiences.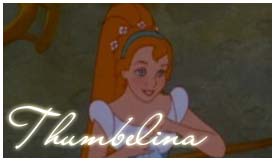 Princess Thumbelina is from the 1994 Don Bluth animated feature, Thumbelina.

Name: Thumbelina
Hair Color: Orange
Dress Color: White at the top with light blue/blue at the bottom. At the end of the movie, she wears a white wedding dress.
Prince: Cornelius
Family: "Mother"
Villain: Mrs. Toad, her son Grundel, Mr. Beetle, Mrs. Fieldmouse and Mr. Mole
Spell: Thumbelina meets Prince Cornelius one night and falls in love with him, but Mrs. Toad takes her away from her home because her son, Grundel, is in love with Thumbelina. Thumbelina manages to get away, only to meet other bad people such as Mr. Beetle and Mrs. Fieldmouse. When Thumbelina is about to marry Mr. Mole, Cornelius is freed from the ice in which he was placed and finds her and fights for her, and the two are married.
Personality: Thumbelina is absolutely one of the sweetest characters I have ever seen. She is kind and wonderful; she dreams of fairy tales and has many hopes to find her one true love, although when she is taken away she trusts others much too quickly, which gets her in more predicaments. She has a good heart and only longs to be home with her family and to be with Prince Cornelius.