Website
The fanlisting was approved on April 12, 2010 and opened on June 05, 2010.
Affiliates
If you would like to affiliate, please contact me.
Layout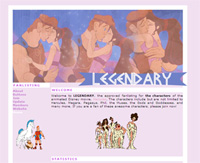 The fonts used on this layout are Verdana and Basileus and the texture used is from Aethereality
The fonts used in the current layout are Basileus and Verdana. The texture used on the layout is from Tuts2Go. Clipart used around the website is from DisneyClips.com.