Listing Information
This listing was approved by thefanlistings.org on Wednesday, November 28, 2007 and opened officially on Wednesday, December 05, 2007.
Font used in the layout: Liquidism. Font used as text: Trebuchet MS.
Past Layouts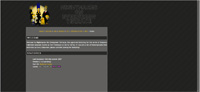 Creation - December 16, 2007
Fonts: Liquidism and Trebuchet MS
Image of Simpsons from Lardlad.com
Credits
The Simpsons Gallery
- Image of Marge as Witch.