Closed Website: Magic Melissa
Site Information
Why make a fansite for Melissa Joan Hart? I must say that the role that I most love Melissa Joan Hart in is in Sabrina the Teenage Witch. I have been a huge fan of this show ever since it was on ABC's TGIF line-up on Friday nights, along with Boy Meets World and other wonderful programs. I love the characters, the props, the setting, everything. Melissa portrays Sabrina amazingly, and I have been a huge fan of her because of this. This is why I decided to make a fansite dedicated to her.
I applied for hosting at fan-sites.org and was approved, and began to make the layout and work on the website. The website is called Magic Melissa because that is what I most know Melissa for, her magic on screen as Sabrina (figuratively and literally speaking).
Timeline
Here is a timeline of some events that have occurred with Magic Melissa.
Applied for Hosting - Tuesday, April 3, 2007
Officially Opened - Sunday, April 08, 2007
Adopted Out - May 20, 2007

Layouts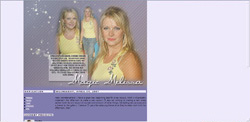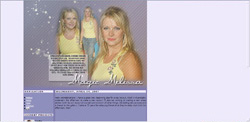 Magic Melissa Layout
Dates: Opening - Adopting Out
Click Here For The Large Version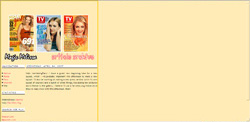 Magic Melissa Article Archive Layout
Dates: April 08, 2007 - Adopting Out
Click Here For The Large Version

Link Buttons and Other Items



Welcome
Welcome to Library, my portfolio which also includes some graphics. Part of Medieval Forest.