Candace Flynn
Candace is the sister of Phineas and Ferb who always tries to get her brothers caught while they are doing outrageous or spectacular, out of this world things in the backyard. This never works out however and they don't ever get caught by their mother. She has red hair and a crush on a boy named Jeremy. For more information please visit
Candace is a 15-year-old girl. She is always aware of the boys' plans. She is generally a spoil-sport and always attempts to get the boys in trouble with their mom. But when she finally gets her mother's attention to see what they are doing they always look perfectly innocent and normal on account of the unaccounted doings of Perry the Platypus and Dr. Heinz Doofenshmirtz Candace nurtures a permanent crush on Jeremy. She often uses her camera phone and acts much like a teenager when not trying to stop her brothers' antics. In a sense, she is the exact opposite of her brothers, being terribly afraid of heights and easily getting sick or dizzy. She has a "Panic Room" in their garden to hide in when she freaks out on account of her brothers' tricks. While Candace is constantly angry at her brothers, there are indications that underneath she loves them. In "Traffic Cam Caper" she saves Phineas at the expense of losing the evidence, and in the episode "Dude, We're Getting the Band Back Together" she gives Phineas a big smile and a hug. In "It's A Mud, Mud, Mud, Mud World" she fails to tell on her brothers, presumably because they were helping her, maybe because her step-father was present. Candace works for the Har D Har toystore in the Danville mall. Candace is good at singing (even when her voice changes due to an allergic reaction to wild parsnips) and can play a number of instruments, all of which begin with the letter "B". Nobody knows what happend to Candace and Phineas's dad.
Wikipedia
Jeremy
Jeremy Johnson is Candace's crush. Jeremy does like Candace but every time he sees her, something embarrassing happens to Candace. Jeremy works at "Mr. Slushy Burger", sometimes called "Mr. Shlushy Dawg" at the mall. Jeremy also seems to have a crush on Candace, as seen in episodes "Candace Loses Her Head", "The Best Lazy Day Ever" where he and Candace sang together and in "Phineas and Ferb Get Busted". Jeremy has a little sister named Susie. She has a high-pitched squeaky voice and appears very cute and innocent. She is, in reality, very manipulative and spoiled. She always has to get her own way, and will do anything to keep Candace away from her brother. Due to comments given by Buford to Phineas and Isabella, it can be assumed she terrorizes him as well as Candace.
Candace Flynn and Vanessa Doofenshmirtz
Vanessa Doofenshmirtz
Dr. Doofenshmirtz's 16 year old teenage daughter. She is very sarcastic and mild mannered. Her dad and mom are divorced, yet her mother still has a good relationship with him. Vanessa is aware that he is an evil scientist and knows her father's enemy, Perry The Platypus. Her character's relationship to Dr. Doofenshmirtz is like that of Candance's relationship to Phineas and Ferb, as they both want to show their mothers what they are up to but usually fail. A curious detail to note about her, is that Perry and Vanessa seem to be completely invisible to each other, despite the fact that Dr. Doofenshmirtz constantly introduces her as his "evil assistant". For Vanessa's sweet 16 party, Perry outwits Dr. Doofenshmirtz and accidentally improves Vanessa's party, in which Vanessa calls as Perry jets off, "thank you, Perry the Platypus!" as opposed to Doofenshmirtz's "Curse you Perry the Platypus!" or only one time: "Curse you Perry the teenager!". Vanessa does not care for Perry's presence in any way. She doesn't hurt him, but doesn't help him either, even when she has the opportunity she simply turns away instead. In return, most of the time Perry simply ignores her. She appears to be part of a Goth group and is dating a boy named Johnny. and we find that out because her father "saw hearts around his name and he thinks he knows what that means." By coincidence, Candace often crashes, lands, yells or even travels next to Vanessa, but have only met once. Though she does try to reveal her father, she still loves him deep down. She has dark brown hair and spends some weekends with her mom and others with her dad. Wikipedia.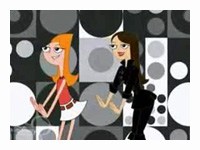 Candace and Vanessa as Friends
Candace and Vanessa are very much alike. They are both around when their family members (Phineas and Ferb, Dr. Doofenshmirtz, respectively) are up to their antics and are always trying to get their moms to catch their family members. They speak to each other in some episodes and in one they even get each other's clothing when the dry cleaners mixes up their clothes. In the episode "S'Winter", they commiserate about their respective family members and how they drive them crazy. Candace and Vanessa would, I think, be pretty good friends, even though their personalities are a bit different.
Candace Merchandise
DisneyStore.com has some Phineas and Ferb merchandise available, and some contains Candace. This is an 11-inch Candace plush toy that I got at the Disney Store.