Jen

Jennifer Masterson, better known as Jen, was one of the original five friends, and the very first to welcome Caitlin into the group. The series began with "Take this Job and Squeeze It," where Jen was still working at The Lemon and handed over the job to Caitlin after she (Jen) was hired at The Penalty Box, a sporting goods store. Jen is now an Assistant Coach at The Penalty Box, where she has many responsibilities.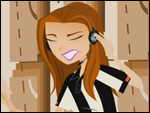 Jen is probably the most responsible of the group, the voice of reason, and extremely hard working. She is always pushing the others to go to work, study, or to take things seriously. Sometimes, though, she can get a little stressed out because of the pressure on herself, so her friends are always there to help her skip a day of work or relax, even if by force.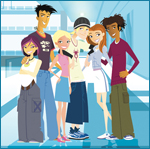 Jen's dream is to be an Olympic medalist or to own her own sporting goods store. She loves to plan and organize, and is always ready with a pen. She does occassionaly date, but is usually single throughout the series. She is always providing rational advice to the group, but even sometimes her advice might backfire and she might give the wrong advice. She tends to worry more but thankfully they are always there to make sure she has fun too.
Icons